In-House Banquet Menu
Please choose 2-3 entrée's. A fourth entrée option may be added for vegetarians or dietary restrictions. Groups of 50 or more please choose 1 only. All entrée's come with your choice of two side dishes. Salad or soup is included as a side choice. An additional side can be added for $3.95 per person.
Step One: Choose your entrée.
Entrée's
| | |
| --- | --- |
| Grilled Herbed Marinated Chicken Breast | $15.95 |
| Grilled Chicken Breast with Piccata Sauce | $18.95 |
| Grilled Salmon with Chardonnay Butter Sauce | $20.95 |
| Grilled Salmon with Lemon Dill Sauce | $21.95 |
| 12 oz. Slice of Fresh Roasted Prime Rib with Au Jus | $21.95 |
| Ribeye with Gorgonzola Butter Sauce | $24.95 |
| Tenderloin Filet with Caramelized Shallots | $26.95 |
| Tenderloin Filet with Mushroom Burgundy Sauce | $27.95 |
| Bison Tenderloin Filet with Blackberry sauce* | $32.95 |
| 6 oz. Filet and Half Chicken Breast with Sauces | $37.95 |
| 6 oz. Filet and Small Salmon with Sauce | $42.95 |
| Pasta Primavera with Alfredo Sauce (Vegetarian only) | $16.95 |
*Bison Tenderloin is subject to availability only and may need to be pre-ordered at least a month in advance.
Step Two: Side Dish Choices. Please choose two side dishes to accompany all of the entrée dishes. An additional side can be added for $3.95 per person.
Salads

Garden Salad Served with Balsamic Vinaigrette
Spring Mix Salad, Bleu Cheese, Roasted Pecans, Raspberry Vinaigrette (add $1.95)
French Onion Soup with toasted Crostini
Classic Caesar Salad

Starches

Garlic Mashed Potatoes
Garlic Roasted Red Potatoes
Roasted Rosemary Potatoes
Basmati Rice
Rice Pilaf
Flame Roasted Corn with Peppers

Vegetables

Grilled Broccoli
Green beans with Bacon and Onions
Grilled Mixed Cauliflower, Broccoli and Carrots
Tuscan Green Beans, Yellow Squash, Red Pepper and Zucchini
Sautéed Mushrooms (Add $2.50 per person)
Grilled Asparagus (Add $4.00 per person)
Step Three: Dessert Choices. You may choose to give your guests up to three different dessert selections.
Chocolate Cloud Cake
$6.95
Gourmet Turtle Cheese Cake
$6.95
Gourmet Carrot Cake
$3.95
Fudge Cake
$4.95
Lemon Layer Cake
$3.95
Key Lime Pie
$5.95
New York Style Cheese Cake
Add Cherries, Chocolate or Strawberries for $1.00
$4.95
Beverage Service
Ice Tea, Water and Coffee service are available for $1.99. Bartender service is available upon request.
Optional Menu
You are not limited to these selections. Our talented chefs will be happy to work with you to customize a menu perfect for your special event.
Guarantees
To ensure a successful event, we require that you please confirm your numbers in attendance 48 hours in advance of the event date. The final count will be considered the guaranteed number and will be the minimum number billed for. We can add additional guests after the final count within reason. There is an 8.5% sales tax added to all food and liquor sales.
For additional information or to book your event, please contact Becka Hays.
(918) 335-0707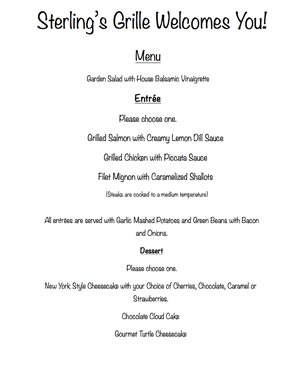 ****This is a sample menu. You may customize your menu with your own special choices!